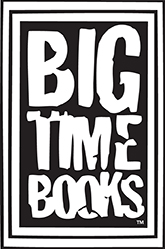 ABOUT US
Big Time Books is the brainchild of ERIC MILLER, who along with a loose conglomeration of show biz professionals gathers at night in sinister places (okay, hot dog and pizza joints) to weave tales of fear and dread. Most of these stories are about the horrors of being forced to do free script rewrites, but sometimes the chronicles drift to darker, more terrifying subjects.
Eric Miller has worked in independent film for over twenty years as a Screenwriter, Head of Production, Director of Development, Producer, Production Manager, Transportation Coordinator/Captain, Driver, and other exciting, fun filled, low stress jobs.
His screenplay credits include Night Skies, The Shadow Men, Mask Maker and Swamp Shark, as well as the Sy Fy Channel epic movie Ice Spiders which was said by the Hollywood Reporter to be "…first rate Entertainment" and by Dread Central horror web site to "spin a web of mirth and mayhem", as well as prompting a monologue and parody skit on The Late Show With Craig Ferguson. He also has a few scripts lurking in development including Dog Soldiers II, and has done uncredited rewrites on other produced films.

He has a lifelong passion for books and reading, and with Big Time Books has fulfilled his dream of running a small press. And though it could turn into a nightmare, at least he will have material for new stories.

Miller is a member of the Horror Writers Association.